These days, a game's graphics are often the most talked-about aspect of it, but an often-overlooked area is how a game sounds. Aside from providing a new level of immersion, a really great sound system can give the gamer a huge advantage,  being able to hear other players more clearly or even the direction they're coming from. So when a game has truly great sound direction, you'll need a good sound system to take advantage. While TV audio is fine, and external speakers can take this up a notch, you'll really need the complete package to get the most out of your game's audio, and the most hardcore audiophiles will throw down hundreds of dollars to get the best listening experience.
Logitech has tackled this part of the entertainment equation with a long history of high-quality speaker systems and headphones, providing an excellent audio experience at a reasonable, competitive price. Their latest foray into the gaming audio arena is their G430 Gaming Headset. Sporting built-in Dolby 7.1 Surround Sound, a huge bass response, and a noise-cancelling microphone, the G430 promises the complete package for PC gaming audio at a relatively-low price of $80. Can Logitech's newest gaming headset give Turtle Beach or even Bose a run for their money? Read on and find out.
Form: 5/5
A common characteristic of gaming headsets is their look and feel; they need to be extremely comfortable for long gaming sessions, but owning a high-quality headset comes with a certain sense of pride and swagger. Thankfully, the G430 passes both tests with flying colors. The headset sports an attractive black and blue color scheme that really pops, and the ear cups features sharp, unconventional shapes and angles to make a headset that looks great. The ear cups are big enough to cover just about any ear size, but remain comfortable even after hours of play thanks in part to the G430's lightweight design. The headband is a bit stiff out of the box, but once "broken in" feels like practically nothing thanks to the stitched padding on the ear cups and headband. The G430's comfort is further enhanced by its design; the headband's size is fully adjustable like most headsets, but the ear cups also swivel around a vertical axis to fit the shape of the user's head, making them extremely comfortable even during marathon gaming sessions. The ear cups can even be rotated to lay flat with the rest of the headset to wear around your neck or to easily store when not in use.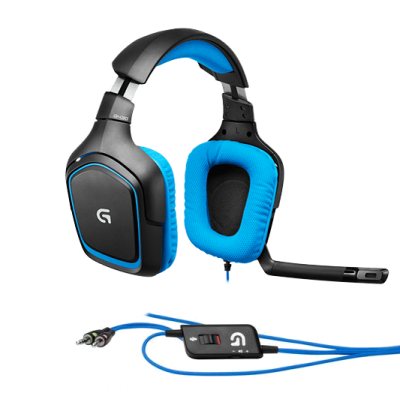 The G430's retractable microphone is built rigidly and placed at just the right angle to pick up your voice without overt exposure, but can be finely-adjusted thanks to its soft metal skeleton and rubberized outer layer. The microphone can also be rotated upwards against the left ear cup when not in use, but I found the microphone to be so non-intrusive that I didn't even have to unless I didn't want to look like an aviator pilot in public. Finally, you have the G430's braided audio cable. Not only does its stitched (non-rubber) enclosure avoid tangling and grabbing your clothes, but it's also extremely long – roughly 4 feet in length, and also comes with an attached Velcro strip to allow for adjustment. All in all, the G430 is an extremely comfortable and attractive headset, and more impressively, sacrifices no practicality for it.
Function: 5/5
A headset is worthless if it doesn't have the sound quality to garner its purchase. Thankfully, Logitech has a lot of experience in quality sound engineering, and every bit of it is leveraged with the G430. Simply put, the sound output it provides is stunning.
The showstopper is the G430's built-in Dolby 7.1 Surround Sound system which delivers a truly immersive audio experience. The G430 simply makes other sound systems seem flat by comparison. With other speaker systems or even headphones, your ears can distinctly tell that the sound is coming from either the left or right channel. However, the G430, with its combined 7.1 system and sound-isolating features (a byproduct of the ear cups' over-the-ear design), you really feel like you're in your own isolated audio zone, like having a private concert hall all to yourself. It's really hard to describe in words how incredible the G430's audio experience feels. The headset's 40mm drivers and 32-Ohm impedance provide deep, rich bass, and its 20Hz-20kHz frequency response ensures you hear all of the action crisply and clearly. The 7.1 system also provides the most precise directional audio around, so you can hear the action going on from every direction.
I've tested the G430 with several audio-intensive PC games, including Mass Effect 3, Borderlands 2, Guild Wars 2, and Battlefield 3. The sheer increase of audio quality over my previous headphones and 2.1 speaker system made all the difference. This was especially noticeable in the massive, frantic battles taking place in BF3. Hearing bullets and explosions from every direction was intense and engaging, but the boom of a fighter jet flying overhead literally sent shivers down my spine. I've never had such an immersive audio experience as I have with the G430. Mass Effect 3 also excelled in my tests, likely by the virtue of being another game whose sound design was headed by DICE, a studio known for jaw-dropping audio. Dialog was crisp and clear thanks to the G430's center dialog speaker, and battles were explosive and intense. The G430's directional audio really helped when making tactical decisions, deploying squad mates and picking targets to take out, and the fullness of sound was excellent when combining the game's unique sound effects with its masterful soundtrack, which sounded better than ever with the G430.
While gaming audio is obviously the G430's focus, it functions excellently when playing music as well. The previously-mentioned "concert hall" feeling was prominent when playing any genre or tone of music from my PC, and the added richness of sound and booming bass response brought the music-listening experience to a whole new level. The G430 features 3.5mm audio jacks for the speakers and microphone, so they function quite well with an MP3 player or smart phone, and the long audio cable can be kept in check with the previously-mentioned Velcro strap. When not in use, the G430 can rest on your neck and lay flat. Since the headset needs the USB adapter to get the best-quality sound, the G430 really isn't optimized for game console use, but it will get the job done. I hooked up the audio jack to my TV's audio out and the microphone jack to my PS3 using the included USB adapter – this is required for the PS3 to recognize the G430 as a microphone input device – and I was able to hear game audio and voice chat while also being able to broadcast my voice to others. After playing a few games of Call of Duty: Black Ops 2 with them, I can say that the game still sounded great, but didn't have that same surround quality as it did when playing on the PC using the adapter. If you want a headset that can give you 7.1 quality on a gaming console, the G430 isn't the best fit.
The G430's noise-cancelling microphone functions at the top of its class, letting your allies (and enemies) hear you with crystal clarity, even in the face of background noise. Many gamers use VoIP software like Skype and TeamSpeak during gameplay, and a poor microphone can turn a tactical advantage into a chore. I performed my own test using Mumble, a VoIP program famous for high audio quality and low latency. After running through Mumble's audio wizard to get my settings perfect, I hopped onto my Guild Wars 2 server and chatted up my guild mates. They immediately noticed a difference in how I sound, saying that my voice came through crisp and clear. I have a penchant for listening to TV in the background while gaming, and while that's a normally-accepted condition to my friends on Mumble, the G430's microphone was able to render this background noise nearly silent, placing the emphasis on my voice.
The cable features an inline audio control panel, allowing you to adjust the speakers' volume and mute or unmute the microphone on the fly. The G430 also comes with a USB adapter which accepts the 3.5mm headphone and microphone jacks and plugs into your PC. The headset comes with a USB adapter to connect the headset to a PC, and it's required to really unlock the full potential of the G430 and to get the fullest, richest surround sound. The USB adapter also enables you to use Logitech's excellent Gaming Software, allowing you to control every aspect of the G430's audio delivery, from enabling or disabling 7.1-channel enhancement to adjusting the bass or treble, or even fine-tuning the audio output with a full equalizer and individual channel volume support. This level of control is only possible when using the USB adapter, so I'd recommend using it whenever possible.
The only caveat of the availability of the software for PC is its lack of availability for other platforms, including Mac OS X. While the headphones certainly work on a Mac computer, users on that platform won't have the same level of fine control available to PC users. This is true for other platforms as well, such as consoles and smart phones. However, the lack of OS X software support is easily remedied in the future, and the G430 still delivers a rich audio experience without it.
Value: 5/5
One reliable aspect of Logitech's products are that they deliver a solid, dependable experience at a fair and competitive price. This is true for the G430, with a suggested retail price of $79.99. That may be a hefty chunk of change to throw down for a more casual gamer, but considering many other gaming-grade 7.1-channel headsets often run for a much higher price, it really comes out as an advantage for the buyer. The prices of its nearest competitors, the Turtle Beach Earforce DPX21 and the Razer Tiamat 7.1, retailing at $149.99 and $199.99 respectively, are proof-positive of this, showing that you can get top-notch gaming audio at an affordable price, and the best part is that the G430 really doesn't sacrifice anything to accomplish this.
X-Factor: 4/5
Aside from the compelling price-point mentioned above, the G430 features an intriguing detachable ear cup system. Let's be honest, in the heat of the most intense of gaming sessions, things can get a little…sweaty. No problem for the G430 – each ear cup cushion can be easily removed from the headset for cleaning. Logitech recommends washing the cushions by hand, then patting dry with a paper towel and letting them rest to air-dry before replacing them; if you want these babies to last, avoid machine cleaning and do it the old-fashioned way. The Gaming software also provides a level of fine-tuned control not available on other gaming headsets, which may appeal to the strictest of audiophiles.  The fact that the headphones work without a USB connection is also of note, since most other gaming headsets require the power draw from a connected USB device , such as a computer or game console, to work.
One surprising absence in the G430's packaging is the lack of an included carrying case or pouch. While they may be less costly than comparable headsets, the G430 is definitely a small investment, and some measure of protection would have been nice to keep them in pristine shape. However, any microfiber cloth bag big enough to fit the headset should work.
FINAL VERDICT: 19/20 = 9.5 out of 10
The Logitech G430 may be the most ground-breaking gaming audio device to come out in recent history, not necessarily for creating a new, unheard-of gaming experience, but for taking top-shelf gaming audio and putting it at a price most can afford. The G430 looks good, sounds even better, and is built with a level of quality that belies its price tag. At $79.99, it's hard to do better than the G430.
PROs:
+ Stunning 7.1 surround sound audio in a personal headset package
+ Attractive, eye-catching design and color scheme
+ Very inexpensive compared to its closest competitors
+ Logitech Gaming software allows for fine-tuning of audio settings
+ Fully-functional without the need for a USB-connected power source
CONs:
– Logitech Gaming software is not yet compatible with Mac OS X
– No included carrying case
– USB Adapter required for the best sound experience
This article is an unsolicited review for the Logitech G430 Gaming Headset. The reviewed product was purchased and tested by the author.